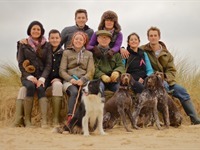 Owners Johnny & Lucie Hustler
We have lived in Fundenhall for 30 years, with our family of 4 children and hobbies of riding horses and breeding gundogs here at Rectory Farm where we also graze cattle in the summer.
In 2014 we decided to convert the farm buildings and although some horses and dogs remain, with the children having left home our B&B business "The Humbleyard" was born - named after an historic ecclesiastical description for an adjacent part of South Norfolk.
We still compete a horse or two and field trial our dogs, ( see www.aytee.co.uk) but now enjoying meeting guests with the B&B increasingly taking up more time.